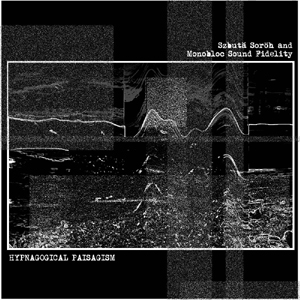 Hypnagogical Paisagism


04.04
Induced nirvana or PSYCHEDELIC DHARMA DISCHARGE
MP3
02.58
Immersion
MP3
02.58
Morning dope
MP3
05.57
The cut we made in uroboros while secretly
to break him in his sleep (and consequences)
MP3
06.06
Psychedelic deconstruction
MP3
06.58
Pulling the stuff out off her spiritual crack
MP3
08.20
Atmosfera salubre
MP3
02.15
Into the light of the eye of the snake
MP3

Full album zipped (mp3 & cover)

ZIP
Produced by Szbutä Soröh and Monobloc Sound Fidelity.
Made in France and Brazil, September 2008.
JOHNCO025 [LP]
Artwork: Szbutä Soröh

www.myspace.com/monoblocsoundfidelity
www.myspace.com/szbutasoroh





Hypnagogical Paisagism est un album concept. Pour l'élaboration de ce projet, Samuel et Jérôme ont réalisé spécifiquement des sons à l'intention de l'autre, puis ont composé ou improvisé en partant exclusivement des sources proposées dans cet échange. Samuel Macedo aka Szbutä Soröh figure mystérieuse de la scène expérimentale brézilienne. Un son très caractéristique noise psychedelic à retrouver chez Zuzzy Nebulae records, Faké Profet recordings, Wildness net label et No Bottom records Jérôme Florenville aka MSF co fondateur dans les années 90 du défunt label Shambala records (Haino / Pauvros, Osaka Bondage, Norscq ...) et membre de l'équipe Epsilonia sur radio libertaire. Sous le pseudo de Monobloc ..., il a réalisé un premier album "1" sur Stomoxine au printemps dernier. Il fait parti de l'ensemble d'improvisation "Oleo Strut" (mini CD chez Wallace records) Roberto Bertachini de Sinistri, Ravi Shardja de GOL, Aka Bondage, Xabier Iriondo (Polvere ) ..."